Problem Statement :
Does xaction allow me to pass a parameter from the front end, just how my prpt does? Yes, xaction allows you to pass a parameter to prpt, in addition to this, xaction support beautification(Javascript), hints, notification dialogue box for end-users.
Scope of this Article:
This article covers steps to pass parameters from xaction to Pentaho report
Prerequisite:
We request you to read the following blog
Technology:
Pentaho Design Studio 4.0 (EE, CE)
UseCase :-
Consider our report has dateStart as a parameter and we  need to pass the value to prpt by xaction
Details:
My prpt has dateStart as a parameter . so, Add dateStart as input with the default value, fill process input details as specified in the below screenshot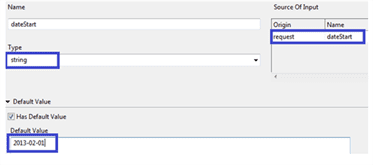 Under process action tab, Add dateStart   in  prompt filter (output type ) as shown in the screenshot , the prompt style would be "Text Box"
Add dateStart as input parameter at Pentaho report step. ( Please Click to call a prpt report from xaction )

Save, refresh puc and execute xaction., you can find the following snapshot in the browser.You can find data start ,here  for my test I am passing  '2004-10-14' , I got all the records of which are ordered on '2004-10-04'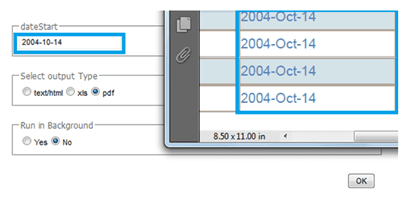 Summary:
This article helps you to understand in detail, how to pass the parameter to prpt reports through xaction.
Walking Tree promotes Pentaho and we support the corporates as well as the developers to ensure that the business is able to take complete advantage of Pentaho's wonderful capability. In case you are looking for professional assistance then do visit our website to get in touch with us.
Reference:
http://wiki.bizcubed.com.au/xwiki/bin/view/Pentaho+Tutorial/How+to+reference+prpt+from+xaction