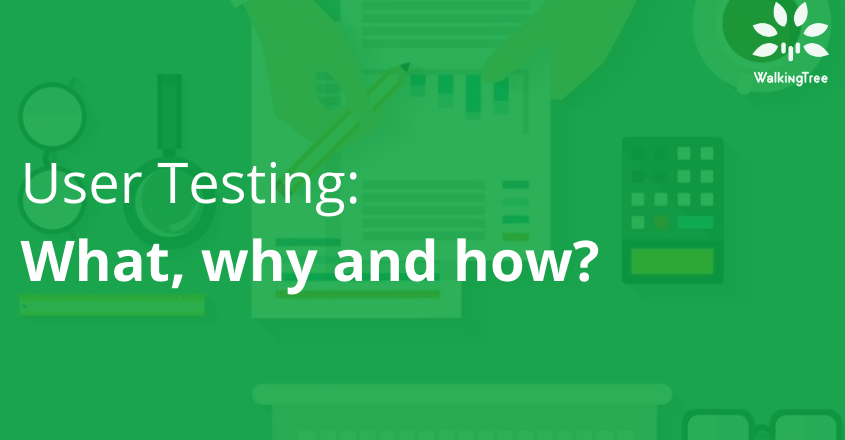 What is …
User testing is an essential part of the UX design process. It refers to a technique used in the design process to evaluate a product, feature or prototype with real users. User testing helps in finalizing and launching a great digital product. It will identify actual product issues and design flaws.
Why …
The purpose of user testing isn't to direct users towards the finish line, but to observe them traversing from point A to point B to complete the task.
To Evaluate the following:
1. Can the user complete the task? What's stopping the user from completing the task? How far into the task completion funnel can users get?
2. How much time does the user need to complete the task?
3. Did users experience any errors? When did the errors occur? Were they avoidable or unavoidable?
Who is …
Anyone who cares about customer experience, including eCommerce managers, UX research teams, product managers, marketers, and designers can benefit from user testing.
Influences …
1.Budget
2.Deadlines
3.End user / participants
Age
Location
Education
Profession
Technical knowledge
4.Testing Environment
5. Agenda and criteria for testing.
6. Moderator / facilitator
How …
User testing does not have to be expensive or carried out in a lab. For best results it should be done in person, but remote user testing can be made to work, and in a pinch there are 3rd party services that can provide some insight for less cost.
We Choose a testing method based on our requirements/ purpose.Some methods are better to use at an early stage of your product development while some work better when it is close to a finished stage.
Here are some frequently used user testing approaches:One : One Interviews: It requires a moderator to run the user test with a set of prepared questions and a proper agenda.
A/ B Testing: Two different samples of a product are given to the end users, which helps us identify which sample works better for the majority of the users.
Focus Groups: A Small set of end users participate in a group discussion. These users tell about their experience and expectations which help in identifying if the product is upto the mark.
Usability Testing: It helps us understand how a piece of design works for a group of end users. This is done by observing users who perform a task and complete it. This form of testing is often done from early stages of the product development till it is completed.
Eye Tracking: It is not possible to see the emotional response to an interface by click or touch tracking alone. Your eyes look at different parts of the screen before you click or make a decision to touch the screen. This method helps us to understand what attracts the users attention.
Furthermore, we have to keep in mind to test users based on open ended questions as well as task based scenarios. Open ended questions lets us know how a user is able to freely interact with the product. Whereas task based scenarios help us understand if users are able to finish a task.
What Next …
With Continuous feedback from our end users, we will be able to identify the pain points of users that prevent them from reaching 100 % success. It helps us get a grip of what our users think and feel and validate the design decisions before developing the product.
Conclusion …
With a well defined objective and a suitable test environment  we can pick our participants, moderator and conduct the most relevant test for the scenario. It gives us insights on how the user is performing a task. User testing is a methodology and a science that produces behavioural and psychological evidence of the changes that are necessary to meet not only your customers needs but also improve your business or product as a whole.