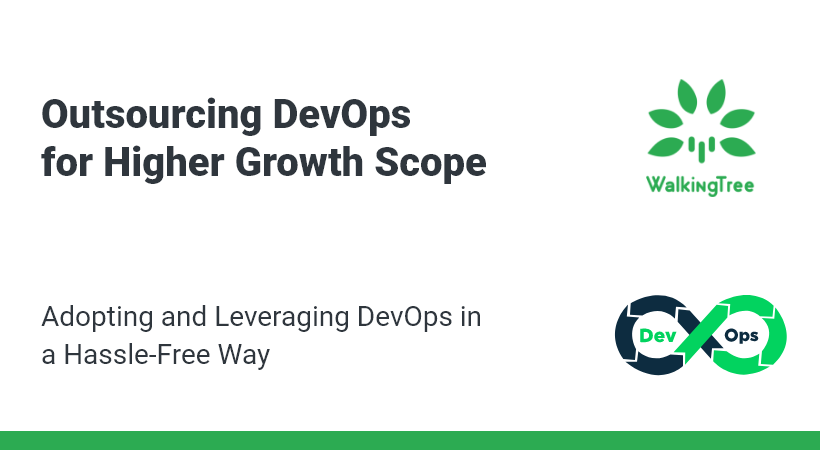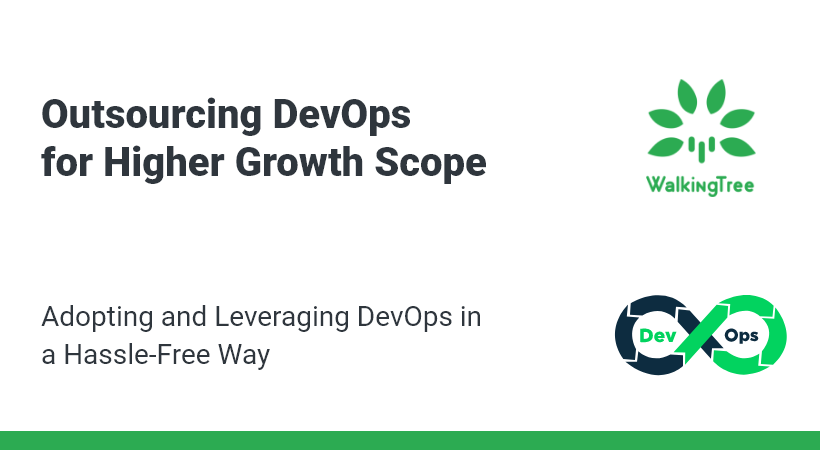 Outsourcing DevOps has become more popular over the past decade owing to the several advantages it offers. A recent survey revealed that 99% of the respondents could witness a positive impact after adopting DevOps in their organizations, while 48% of the respondents claimed to gain more after opting for the same. And the intriguing part is, a majority of such DevOps users prefer to outsource DevOps.
Due to the widespread adoption of remote access, many firms must immediately digitize their operations. Without high-quality DevOps services, which are now more valuable than ever, this change is not possible. At the same time, there is a severe scarcity of DevOps teams that can manage the complicated cloud infrastructure ecosystem.
Perhaps you also ran into a similar issue. Do you know how other businesses handle it? They contract out DevOps. They may work more quickly, more flexibly, and with fewer hassles by outsourcing DevOps to a reliable offshore partner. That holds true for both large firms with a sizable workforce and small and medium-sized businesses. Let's look into it further. 
Importance of DevOps: Why It's Being Adopted Widely?
Agile approaches, which prioritized faster the release of a final product and increased the number of released versions, were widely employed before DevOps gained popularity. Another factor that decreased the labor intensity of preliminary design and enabled the continuous release of fresh iterations of a software product, was the use of microservice architecture.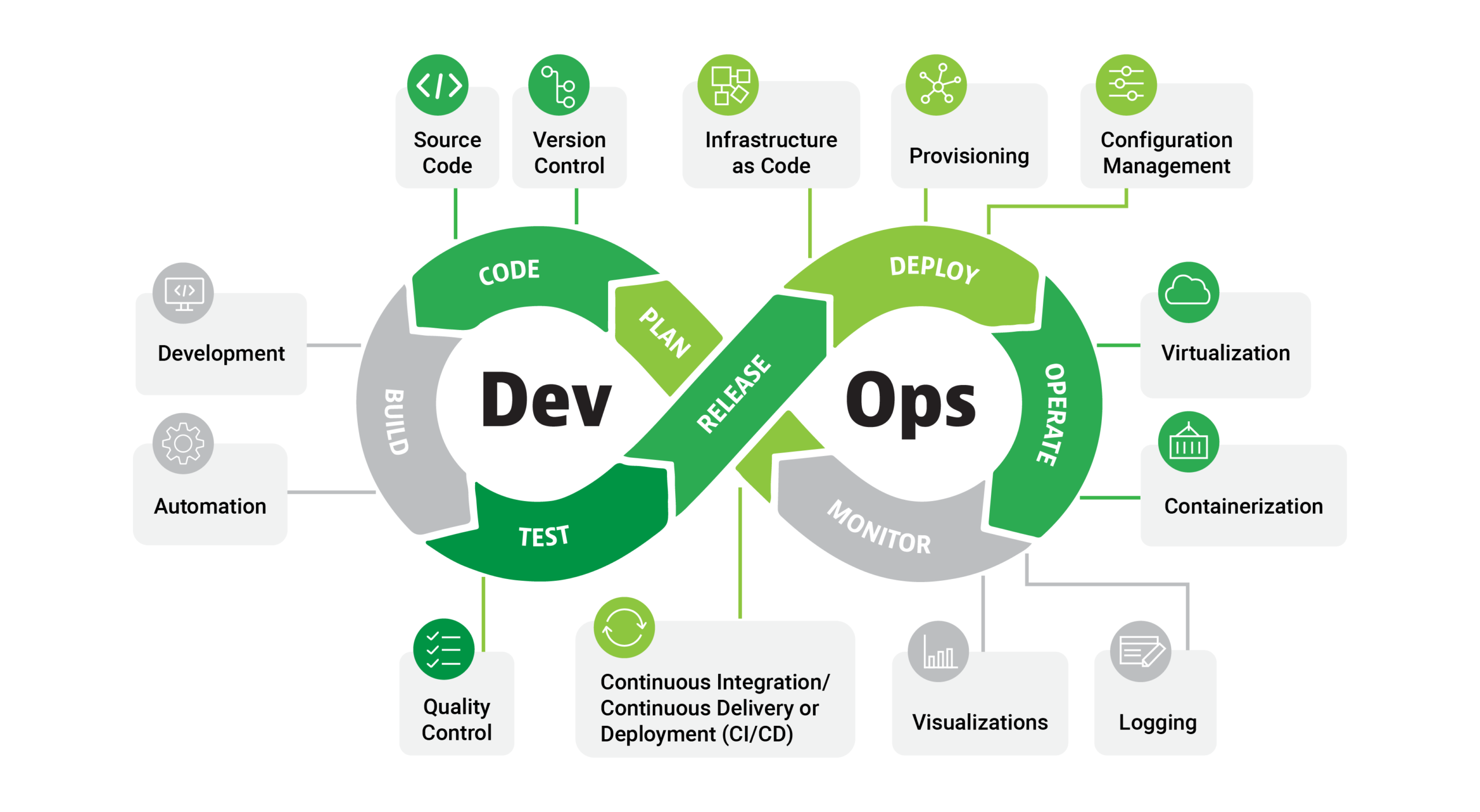 1. Increases recuperation and decreases failures in development
One of the causes of teams' deployment issues is programming errors. Shorter development cycles encourage more frequent code releases in the DevOps environment. As a result, finding bugs in the code is significantly simpler. Teams can therefore decrease the number of deployment failures by implementing agile programming principles like teamwork and modular development. 
Because only a small number of modules are impacted when rollbacks are necessary, they are also simpler to administer. Given that some failures cannot be avoided, recovery time is crucial. Recovery is far quicker when the mobile app development and operations teams work together, talking about things and taking care of both teams' problems during product development.
2. Boosts efficiency
The DevOps methodology encourages developers to devote as much time as they can to tasks that are beneficial. Because automated testing and integration handle the laborious task, developers do not need to wait for code integration or configuration. 
Both of these tasks can be finished with a single tap. As a result, they become more productive at work and have more time to spend on challenging and valuable tasks.
3. Enhances customer experience
Giving clients more value and high-quality software is the ultimate aim of DevOps. It guarantees that consumers receive the best software as soon as feasible. In the early stages of development, problems are also found before they affect consumers. Collaboration and numerous feedback loops are key to the DevOps culture, which aims to deliver the greatest goods to clients. 
All of these make sure that clients have a fantastic experience, which improves customer happiness. Undoubtedly, maintaining a competitive edge in the current ultra-competitive market depends on meeting client needs. According to Puppet's 2016 State of DevOps Report, DevOps enables businesses to increase deployment frequency by 200 times while reducing change failure rates by three.
Small and medium-sized businesses have suffered because DevOps ideas have not been implemented clearly and are confusing. Continuous testing, often known as automated testing, is one of the things that is frequently disregarded in DevOps techniques. The objectives of DevOps are not met since pipelines cannot be fully automated without thorough testing automation.
4. Drives innovation
DevOps is a cutting-edge strategy that enables organizations to be more effective and reactive to business needs. It can assist software and development organizations to innovate more quickly. This tactic improves communication between the development and operations teams, which can improve the standard of software creation and allow for more frequent and rapid software releases. Organizations and teams must adopt a new attitude, use new tools, and use new skills in order to adopt the DevOps strategy.
The long-term goal of the DevOps methodology is to offer a development and production environment that fosters and encourages increased collaboration with a focus on better and more effective procedures for innovation and growth. The effectiveness of the development and operations teams is impacted by this strategy, as is the organization as a whole.
What is DevOps as a service?
Building your own DevOps department can be expensive and take a lot of time, even though many firms feel more comfortable working with an in-house team. You can run into talent scarcity and need to spend some time training new workers leading to an increased cost burden.
Particularly startups find it efficient to delegate DevOps services to an established party in order to save crucial time and resources. When you choose to use DevOps as a Service (DaaS), you give a provider business control over the development and implementation processes. 
To create, develop, and integrate DevOps methods into your business and adjust them, particularly to your goals, the supplier assembles a capable and experienced team.
Why outsource DevOps?
The fundamental issues facing all firms, not just major players, are an excessive time to deploy, infrastructure delivery delays, wasteful use of resources and money on inappropriately purchasing and maintaining the wrong technologies, and frequent unexpected downtimes. The issue might also be caused by an antiquated method of delivery, in which most interactions take place manually at various points during the deployment lifecycle.
In addition, businesses interested in implementing DevOps anticipate achieving robust security, quicker time-to-market, more adaptable infrastructure, the ability to switch technology kits as needed, fewer deployment problems, fewer downtimes, and higher uptimes, as well as improved product quality. Let's look at it in a more detailed manner.
1. Better Time Management
Every task is identified, managed, and verified to see if it has been completed by the deadline. In 99% of cases, service providers have their own managers who oversee the project's progress. Once outside, communication is open and experts can meet limits even more quickly.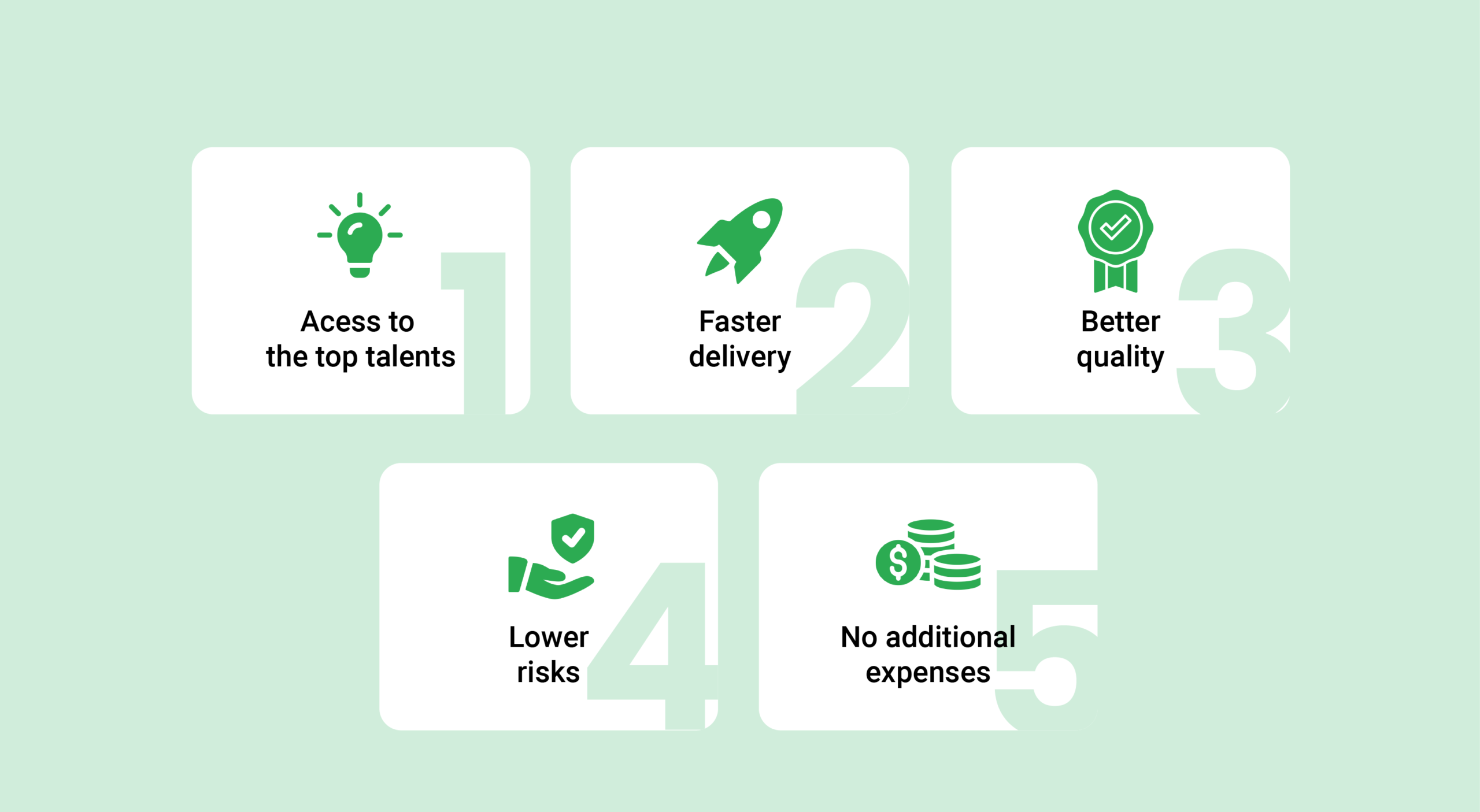 2. Efficient Knowledge Sharing
IT outsourcing firms have a long history of sharing expertise and engaging in brainstorming sessions to explore problems and jointly identify the best solutions. It is beneficial to change the focal point and approach the issue from a different angle.
3. Improved Flexibility and Resources Optimization
Agree on the collaboration contract's terms and conditions, as well as the number of DevOps engineers that will work on your project and their required hours. You can ask for more hours or expertise if you only need them for a short while; they will then get to work right away.
4. Cost-Effective
Despite the common misconception that hiring an in-house specialist is more expensive than outsourcing services, the cost is typically more reasonable. This is due to the adaptable rates and simple price structure. It occasionally happens that an outsourced staff is even more affordable and effective.
5. Robust Security Practices
Security and compliance are also more crucial than ever for business owners. It can be difficult for businesses without internal IT or security staff to navigate DevOps security best practices. Everywhere you turn, there are dangers and security risks.
Enhanced security procedures are another key advantage of outsourcing DevOps. If you decide to collaborate with a service provider, professionals can assist you in putting DevSecOps procedures into place. To safeguard your apps and guarantee that your DevOps culture is in line with security best practices, they can also create strong defences in the cloud infrastructure.
Outsourced DevOps: How Does It Work?
DevOps implementation has clear advantages. However, it's not entirely clear how organizations should set up sophisticated workflow internally. For this reason, a lot of companies choose to hire DevOps as a service.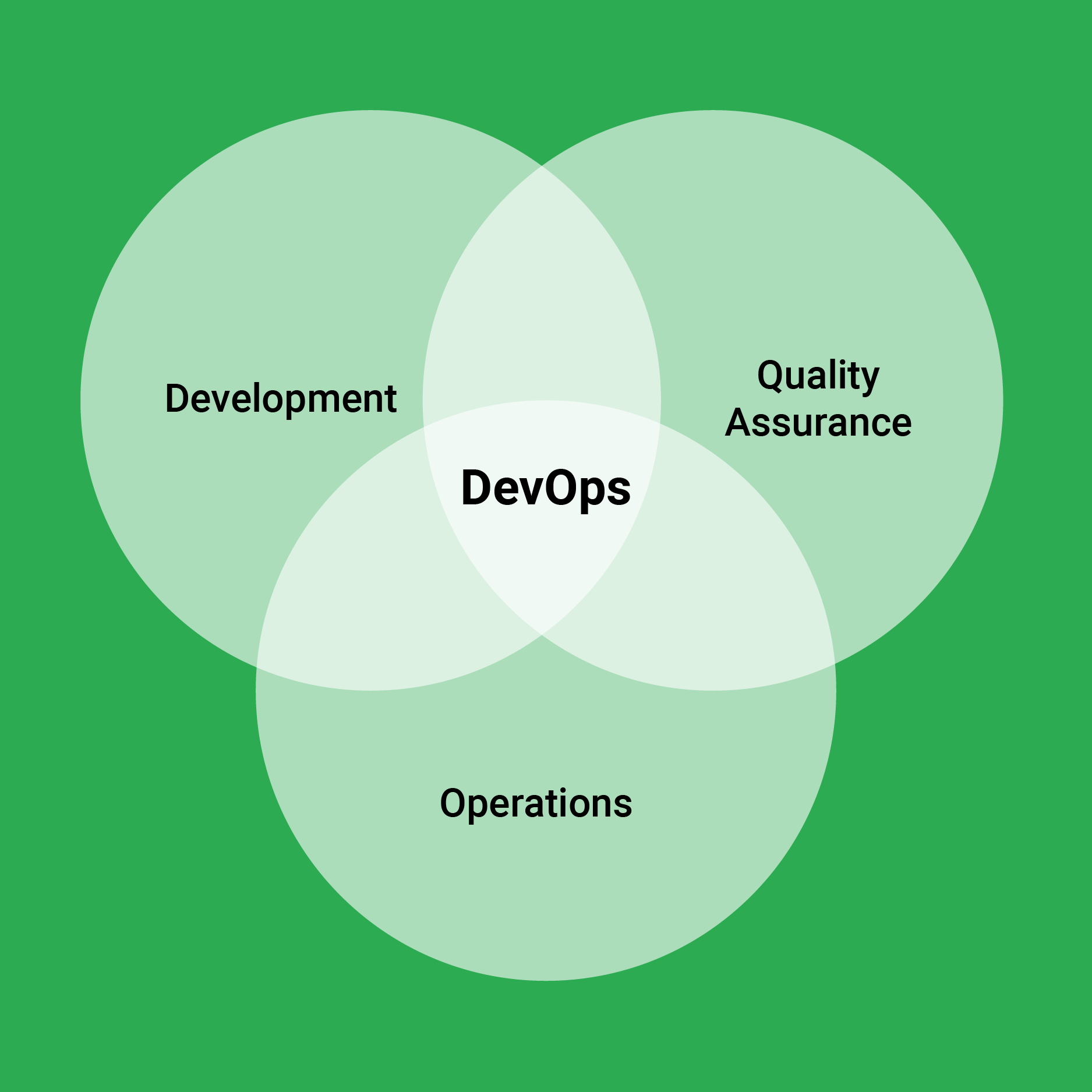 When a company outsources DevOps, specialized engineers put the sophisticated technique into practice, tailoring it to fit the infrastructure already in place at the company and to satisfy specific objectives. Each workflow is specifically designed to fit each organization and each project.
Transferring present architectures to the cloud is another aspect of subcontracting DevOps. Before beginning cloud migration and developing appropriate tools to manage delivery within the cloud, the subcontracted company will evaluate the organization's current procedures.
DevOps as a Service, or Daas, typically entails:
Integration of cloud services

Establishment of a recovery plan

Moving from one cloud to another

Production and development automation

Dockerizing and developing apps
Although the aforementioned services are the ones that DevOps contracts most frequently cover, it's crucial to keep in mind that every project is different and needs a customized strategy. This process works best when clients and DevOps service providers collaborate to determine the exact services needed for the project at hand.
Best Practices for DevOps and DevOps Outsourcing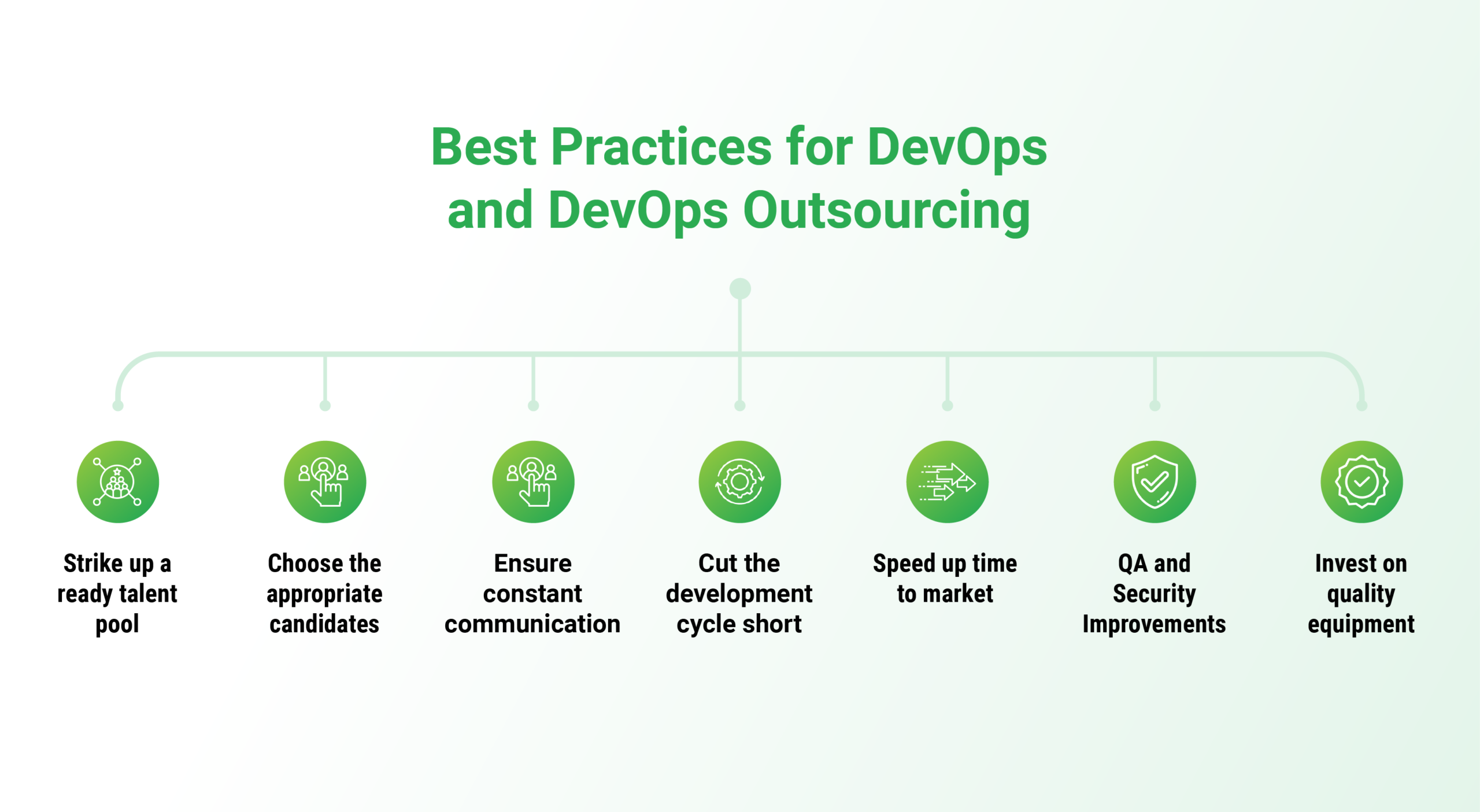 1. Strike up a ready talent pool
Today's DevOps professionals are seldom rational, and they are aware of this. For early-stage firms looking to utilize DevOps Best Practices within their budgets, hiring a DevOps expert may not seem like the best course of action.
DevOps outsourcing companies have a ready-to-use talent pool of DevOps specialists, so you can begin acquiring DevOps opportunities right away. Reduce the time spent on hiring and training new employees. With DevOps as a service, you can hire experts at fair prices.
2. Choose the appropriate candidates
The key to DevOps success is people. Undoubtedly, the most important element of DevOps best practices is hiring or training resources with the appropriate skill sets to lead and influence your teams. No matter what tools you invest in, business transformation won't succeed without those crucial evangelists who comprehend and support your goals. 
DevOps engineering approaches demand professionals from the outset who are committed to an automation-first mindset and see their position as fundamentally based on their ongoing search for ways to accelerate the development and deployment lifecycle. To make sure the proper tools, techniques, and processes are employed to achieve DevOps goals, it is also crucial to draw on resources with experience in both DevOps and Agile methodologies.
3. Ensure constant communication
Specialists only interact with other departments as necessary under the previous IT approach. As soon as testing is finished, developers and quality assurance (QA) engineers wash their hands of new apps or feature codes, while operations move them into production and maintain performance.
With cross-functional and agile teams, DevOps engineering approaches dismantle those functional silos and focus everyone on the same objective. The relationship between developers, operations, and key stakeholders must be strengthened through constant communication if a delivery pipeline is to attain the agility, transparency, productivity, and efficiency that characterize DevOps culture.
4. Cut the development cycle short
To support numerous clients and partners, outsourced DevOps teams utilize shared infrastructure, services, and tools. DevOps workers who are outsourced take advantage of quicker development cycles, effective collaboration, and continuous testing and deployment. For more efficient development, hire a team with expertise in DevOps Best Practices and cross-functional collaboration.
5. Speed up time to market
For a competitive advantage, you must launch your concept or product more quickly. You can speed up development and deployment while conserving resources with a DevOps team.
With DevOps outsourcing, you can set precise deadlines and rely on a talented team to complete their task efficiently in order to fulfil your objectives and deadlines. Your DevOps team may also need to grow or contract depending on your needs.
6. QA and Security Improvements
Working with a trained DevOps team, stable monitoring, testing, and automation of QA processes significantly improve the quality of code applied to the production environment.
However, outsourced DevOps teams assess the level of service and hire trained engineers who keep up with the most recent innovations and have the necessary QA and security certifications.
7. Invest in quality equipment
DevOps best practices include tooling as a vital component since it automates the development cycle and promotes cross-functional teams' productive communication. But picking the best DevOps tools might be challenging. The market is filled with wonderful solutions that can meet particular requirements, but there is no one tool that can be used to implement DevOps in its entirety.
An important first step in selecting the right solution is to take the time to evaluate the existing condition of your delivery pipeline. Finding the best tool for the job will need you to pinpoint the areas and procedures that demand the most support.
It's crucial to get organizational support for the tools you choose. To get the most out of tool investments, highlight specific aspects that make work easier, check that tools function together flawlessly, secure endorsements from reputable team members, and foresee and address hesitations.
To get the best return on your investment, it's also essential to make sure that your personnel are thoroughly trained and become experts in the products you choose.
Outsourcing DevOps: The Future Growth Scope
Businesses may immediately profit from the effective process by outsourcing DevOps, giving them access to subject-matter experts and cutting-edge technology, all without the risks and difficulties involved with maintaining DevOps internally. DaaS has numerous advantages and few drawbacks, thus it's expected that more companies will continue to outsource DevOps in the years to come.
Startups have a great chance to start using DevOps without spending a lot of money by using outsourced DevOps services. You can get the necessities from a DevOps as a Service provider, including integrated techniques for changing your procedures and tailored software solutions to make your operations more reliable and effective.
Know more about our DevOps practice.