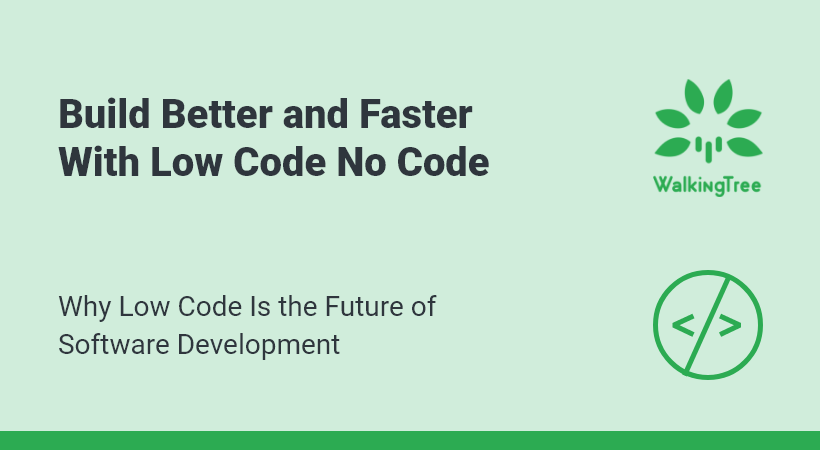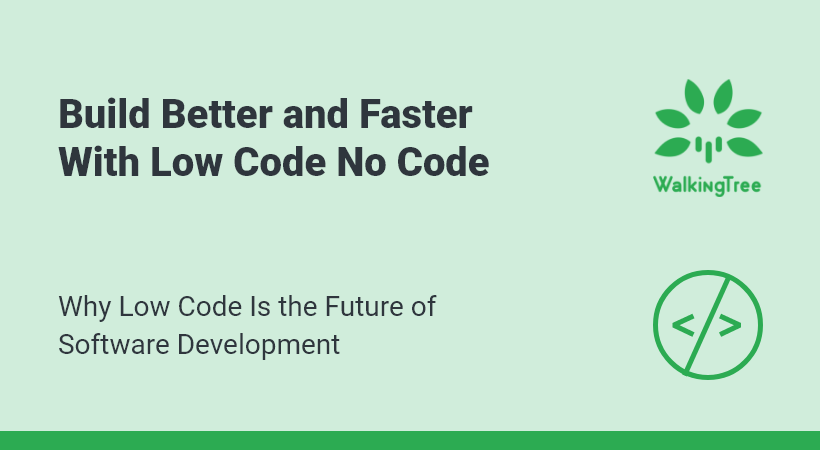 By 2025, enterprises will produce up to 70% of their software utilizing low-code app development, according to Gartner's predictions. In contrast, just 20% of businesses created applications using low-code in 2020. Sounds intriguing? Well, it is!
Over the past decade, businesses have mainly explored two main options to cater to their requirement for information systems, adopting a ready-made tool or system from a third party or building one from scratch. While the later one offers more flexibility to accommodate a business's need, it also requires in-depth knowledge of development and testing. But, in recent years, the scenario has changed drastically with the introduction of low code no code application development. Starting from faster development to resources optimization – there are several factors that are driving its popularity among the developers. But that's not it.
There's more and you too can leverage this application development process to fulfill your business goals. Wondering how and why? Let's delve deeper!
What brings Low Code into the limelight?
Is low code no code development just a rising craze or does it have the potential to take your product development to a whole new level? Here we will discuss the solutions to these and other issues as well as a detailed walkthrough of creating low-code apps.
Because we are aware of the potential low-code possesses when used properly, we at Acropolium like working with it. But we are also conscious of its constraints. Let's discuss what this implies for mobile apps.
By offering a wide range of advanced settings, drag-and-drop controls, and other functional components, it lets you deploy and excel in a simple visual environment. Moreover, one can easily build even without needing to code extensively or have any programming language.
A low-code development platform consists of a range of advanced modular components that offer an easy learning curve even to the non-programmers. It also contains the required systems and solutions to bring such components together during the development process. As a result, the process of building, testing, and launching becomes much more simplified with a low code no code development approach. Be it utilizing the pre-built blocks, or adding new blocks to deploy – this programming approach simplifies everything.
There are many choices available on the market as a result of the rising popularity of low-code 
platforms. But, what does the internal process for low code no code exactly look like? Let's know.
How does Low/No Code app development work?
For any product development, there are certain requirements by the business that are needed to be fulfilled. And during the development phase, the programmers need to take care of that by writing the respective lines of codes. The features, functionalities and solutions offered by a product majorly depends on this development phase. Additionally, app developers are aware of how to deploy programmes and the importance of putting testing methods in place before sending a product into production.
Low code no code approach gives the users the facility to opt for the specific reusable components as per their requirements. This also makes it easier for the end users to execute and automate the relevant workflow.
Low-code systems frequently have graphic user interfaces that approximate the creation of flowcharts. Furthermore such tools help:
Play around with various programme structures

Build prototypes

Carry out test case scenarios

Install low-code programmes
Low code workflow solutions include a form designer that enables administrators to rapidly design straightforward forms (like an IT support request) or intricate ones (like a capital expenditure request).
Drag-and-drop form designers provide personalized layouts that imitate forms that may already be on paper or in Excel documents. 
Business customers are already familiar with the overall procedure, so it can be established rapidly and improved over time as requirements change. 
Administrators and executives can analyze performance indicators and spot any process problems, such bottlenecks, using reporting tools and dashboards.
Low code no code development widens the scope to integrate your existing system with a range of other systems and solutions. Be it workflow management systems or CRM systems – low code no code makes the integration hassle-free, smooth, fast and without any ambiguities.
Low Code and No Code: same or different?
Low code no code has come to the spotlight for a while now, and both of them are often used interchangeably, but the truth is – though the main target is the same, they differ from each other. Low code implies that very less code is needed to develop a product and no code refers to the development process that doesn't require coding knowledge.
While no code development approach is more suitable for the people with non-technical background, low code is often the first preference for the developers as it offers a faster and simpler solution. Not only to develop a product, but also to maintain, upgrade or integrate it with another system/systems, low code no code plays a vital role. The graphic elements are designed for particular purposes and don't offer much versatility.
Leveraging Low Code No Code application development
Starting from startups to medium or growing businesses – the adoption of low code has become widespread. It helps businesses develop customer-centric, market-driven products that can pace up with the current market as well as upcoming trends.
Having a cheap alternative for app development spares businesses the expense of assembling an internal team of developers to launch a project. Additionally, low-code app development can be carried out by the present personnel, saving businesses the expense of hiring an outside firm.
While opting for low code no code development, there are certain factors that you should look after.
The present infrastructure – You should take into consideration the present infrastructure of your business or entity as the set of requirements from your app or product depends on that.
Market positioning – It is vital to assess the present market positioning of your business as well as the target you want to achieve through the product development. This will help you have a clearer vision and leverage low code no code development accordingly.
Support and maintenance – Just developing a product is not the only concern of a business but one should look after the support and maintenance factors as well. Based on the product type, functionalities, requirement to integrate other tools, and others, you must have a transparent goal and plan for support and maintenance of your product.
Development of low-code applications can assist in bridging the gap between older architecture and modern systems.
Leveraging the Power of Low Code No Code with Mendix
Mendix is expanding rapidly; it now has 10 million users and an annual recurring income of over $100 million. It was acquired by German automation juggernaut Siemens for $730 million in 2018, marking the single-largest investment in the low-code market. It has been recognised as a leader in Gartner's Magic Quadrant for Enterprise Low-Code Applications. Being equipped with the collaborative and competitive functionalities, Mendix lets you align with your Agile project development goals easily.
Be it executing continuous integration or updating the servers on time – Mendix can cater to  every requirement to keep the development pipeline updated and implement a robust methodology. Mendix offers an easy solution for both programmers and the ones with non-technical backgrounds. You can also easily build apps through its Mendix Studio and Mendix Studio Pro.
We, at WalkingTree, offer a compact solution to leverage the key features of Mendix to ensure a safe and competitive environment for your product development and the relevant data.  
By adopting advanced OOAD (Object Oriented Analysis and Design) and UML (Unified Modeling Language) approaches, we cater to your specific requirements of building market driven, competitive products. 
As per a recent survey, most half of respondents (47%) claimed to believe that when software development costs rise, so do the number of employees needed to complete the work (61 percent ). An LCAP serves as the solution for many businesses.
Additional interesting findings from the paper include:
Today, apps developed on low-code platforms are used by more than half (56%) of employees in low-code businesses

2 out of 5 low-code users reported more collaboration, quicker development, and lower costs. Low-code initiatives also move along 56 percent faster and at a cost that is 53% lower

33% of those who use low code have done so to produce mission-critical applications
The pace of traditional application development techniques cannot keep up with demand. Even worse, these techniques don't always use the correct people to produce high-quality software quickly.
To conclude
Although there are still challenges for business users to construct meaningful enterprise applications, workflow management is a key area where low-code platforms have proved successful. Low-code platforms come equipped with everything needed to establish a business concept rapidly. Low-code development is in accordance with the rising pains that many organizations go through as a result of the shortage of IT workers. Utilizing the Mendix software platform, one may create specialized, process-driven business.
If you are wondering how, don't hesitate to get in touch with us on connect@walkingtree.tech to start off on the right foot.