Problem Statement :
Not able to access pentaho administration console using default user name and password
Scope of the Article:
Here we are going to see a trick to decrypt the MD5 encrypted password credentials used to login to pentaho administration console.
Technology:
pentaho-business-analytics-4.5.0-GA
Details:
You can find the MD5 encrypted hash at the following path
\server\enterprise-console\resource\config\login.properties.
Now copy the MD5 hash code from the file.
You have got a lot of fancy websites which will decrypt the file for you.One of them is

Just place the copied MD5 hash in the text box  and click on the decrypt button. You'll get your  decrypted password here.

Now try to login using found password into pentaho administration console.
Pentaho Administration Console: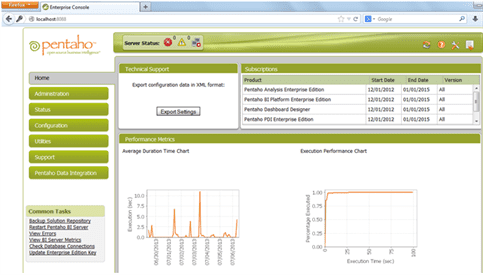 Summary:
This is a simple trick to know your pentaho admin console password and login into the pentaho admin console
Walking Tree promotes Pentaho and we support the corporates as well as the developers to ensure that the business is able to take complete advantage of Pentaho's wonderful capability. In case you are looking for a professional assistance then do visit our website to get in touch with us.