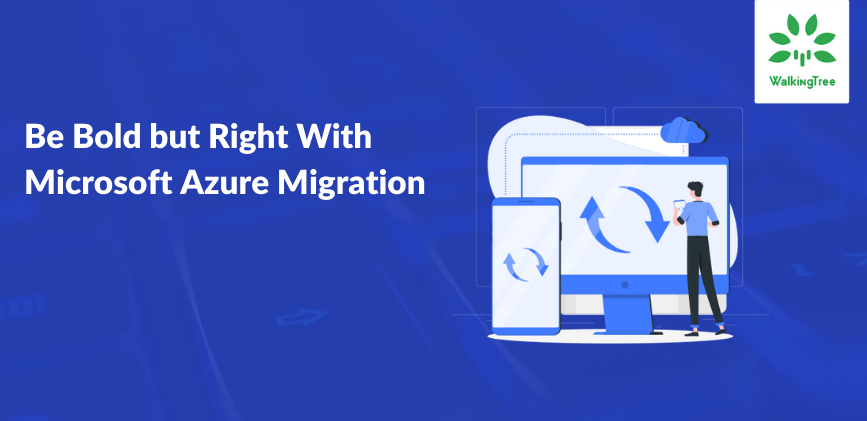 It is mind-boggling to see the scale at which the "Project Red Dog" or "Microsoft Azure" as we know today has grown. In October 2019, Microsoft bagged a $10 Billion Pentagon JEDI contract deal. The U.S. Government choose Microsoft to build a cloud storage system for Pentagon under a 10-year contract.  With 54 data center regions and multiple data centers in every region spread across the globe "Microsoft Azure" is on top of the game in ubiquitous computing. 
The current CEO, Satya Nadella, said in a recent interview, "Microsoft's core model is to see people becoming successful." Microsoft Azure has definitely established and is constantly redefining a cloud storage platform helping businesses with their digital transformation journey. Are you planning to move on to the Microsoft Azure platform? Do you reckon it is the right time for your business to migrate on the cloud platform? If yes, why exactly be bold but right with Microsoft Azure Migration?
Being Bold but Right With Azure Migration
"Be Bold, but be Right" said Steve Balmer to Satya Nadella when the latter was appointed as the CEO of Microsoft. Handling the Microsoft charge required taking bold decisions, but these had to be right at the same time. A wrong decision even if bold would mean building for a disaster to happen. 
Businesses are in a similar situation as Mr. Satya when it comes to making bold decisions for their organizations. Digital technology has turned out to be a driving force for democratization. Businesses that need to survive and ride on this wave of digital disruption have to make a decision today. While the benefits of moving from on-premises to cloud computing are many, it is the challenges that stop many from migrating to the cloud. 
Let us take a look at how Microsoft Azure Migration is a bold but the right decision for businesses today. 
Assess the Current Environment
Microsoft Azure offers a world of possibilities to businesses planning on-premises to cloud journey. However, it is crucial to determine the exact cloud solution that your business will benefit from. Some of the cloud components are:
IaaS: Infrastructure as a Service

PaaS: Platform as a Service

SaaS: Software as a Service

On-Premises

Private Cloud

Hybrid Cloud
Many businesses fail due to a lack of planning, assessment, and strategizing their migration from on-premises to cloud. 
So first create your objectives and priorities with the cloud migration. Microsoft Azure has assessment tools that will help you assess your current business environment, dependencies, and plan a migration strategy accordingly. Here are some of the pointers to keep in mind
As a rule of thumb, when planning to migrate any application to Azure, all the interfacing application should also get migrated. 

Software used in applications should be migrated to the Nth version. 

Data Residency Rules need to be followed when migrating to the cloud.

Personal Identifiable Information (PII) needs to be secured and any data that can identify as individuals need to be locked away. 
A careful and thorough assessment will give structure and establish a proper migration process. 
Involve Stakeholders in a Paradigm Shift
Businesses need a broad change throughout the organization and support from the stakeholders. It is a paradigm shift and it is crucial that everyone in the organization is engaged and supports the move. Involving all is a major task but educating the key stakeholders about the digital transformation and how it will impact the growth will be helpful. As you move your computation from on-premises to the cloud the different departments in the organization will have to share the same vision for the business to ride on the migration wave. 
Create A Strategy Around Migration 
Now, this is the stage where businesses either make it or break it. Trusting that Microsoft Azure Migration is the best option for you is good, but migrating without a strategy could be disastrous. Implement the four widely adopted strategies for Azure Migration:
Rehost

Refactor

Rearchitect

Rebuild
Depending upon your cloud requirements and business needs, you need to choose the right mix for a successful migration. Choose the strategy that will work best for you and take help from the professionals who have experience in migrating from on-premises to Microsoft Azure cloud storage network by using the right mix of applications. 
Plan Your Execution Well 
Once you decide on the strategy, it is crucial that you plan on how exactly you will implement your strategy. Planning will require you to consider the several risks involved in migration, the challenges that your employees may face, the disruption that it may cause and how exactly will you handle it. 
If you do not plan your execution well, the migration will only seem to be burdensome for your employees. Every step of the migration from the tools to be used, the applications that you want to migrate, the software associated with the application, etc. need to be very well documented. 
The Importance of Being Right
 A decision that impacts the present and future of an organization better be right…there is no room for errors. Microsoft Azure with all the features and functionalities does seem to be the perfect choice for many businesses but it is crucial that the migration is done right. Every step from Azure assessment to strategy and execution of a plan will need to be followed meticulously. If you do not fully understand the benefits, risks, challenges, and the roadmap to Azure migration it is wise to take help from professionals who have the required experience and expertise in executing the migration from on-premises to the cloud storage. 
WalkingTree Technology Comes in Handy
Microsoft Technology is designed to help businesses and end-users connect on a ubiquitous computing platform. At WalkingTree technologies, we want your business and Azure Migration to be successful. We believe that seamless computing is possible and ubiquitous computing will give businesses an edge over the digital revolution. With over 11+ years of experience in helping Small, Medium and Large organizations to harness the power of technology, Walking Tree can help your business achieve the same with Microsoft Azure Migration. 
We are among the only 5% Microsoft Silver Partners around the globe. Our experienced professionals are versatile in empowering businesses to Migrate and Scale their computing on the Microsoft Azure Cloud Platform. Yes, the decision to move your on-premises computing to Microsoft Azure is a bold one, and we help you in every step from assessment to implementation and make it the right decision for the present and future success of your business. When you have the right strategy, plan, and an exceptional team at WalkingTree to help you with your migration process, why not be bold and right.