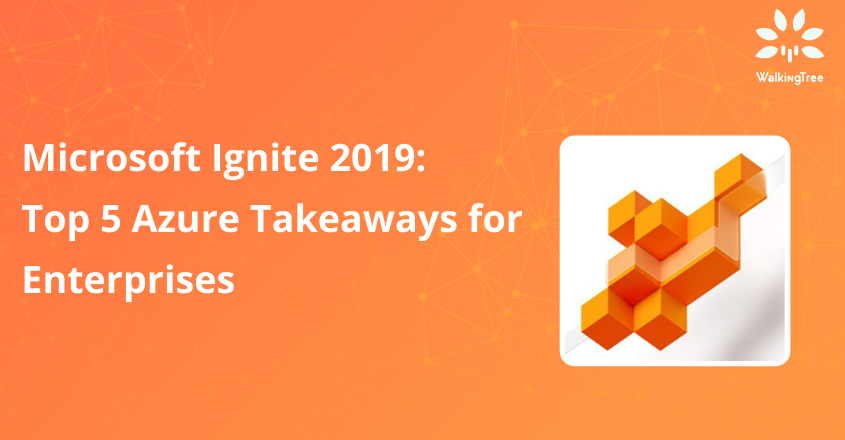 Microsoft Ignite 2019 was a jam-packed event filled with many exciting announcements, news, shop floor demonstrations, developer sessions, and several other awesome activities. With over 1000 sessions that showcased the ease and finesse of migrating legacy workloads, the latest tech in Azure, innovative techniques in client development, managing your infrastructure, and more. We were elated with hundreds of sessions and especially the ones dealing with cloud technology. 
Here are the top 5 Azure takeaways that will help enterprises spanning the cloud migration strategy across their business. 
#1 Azure Today and Future Expectations 
What motivates Microsoft to Build Azure into a platform prepared for mammoth computing needs in the future? For one, the expected growth of 50B devices by 2030 and a whopping 175 Zeta Bytes of data by 2025, which is up from about 40 Zeta Bytes today. Azure is being built as a world's computer and a digitally distributed computing fabric connecting the whole world. Currently, there are 54 data center regions across the globe maintaining the right certifications and digital sovereignty rights across the world.
Apart from the massive growth experienced now and the expectations in the future, Microsoft has "SUSTAINABILITY" as paramount importance in the cloud tech-stack going ahead.
#2 Latest Innovation on Azure Edge
Connectivity between cloud and edge computing…an exciting Azure offering for enterprises. 
Azure Stack Hub: Stack Hub allows you to have a full hybrid cloud on-premises. It is an integrated system designed to provide serverless computing with Azure functions and a simplified Kubernetes. The best part is that it can run in two different scenarios – fully connected and disconnected. You can connect to the Azure services such as backup, monitor or even security center. 
Azure Stack Edge Commercial Series: This commercial series has a GPU option that does the MLP processing and inferring. This also includes a private cellular network added to it as a service. This update is in line with the continuous enhancement and adding new functionalities to the Azure Edge computing for commercial players. 
Rugged and Portable Commercial Series: This Portable commercial series offers the same features, but is designed to be used in rugged or disconnected environments. It is portable and makes it the preferred option when you wish to carry it along in a rugged environment. 
Small and Rugged Series System:  It can easily fit in your backpack and it weighs less than 10 pounds with the battery installed. The small and rugged series system enables and empowers people involved in disaster relief, search and rescue missions, mining, and several such tasks that need a small but portable computing power. 
These services can be ordered and managed by the Microsoft portal and there is no initial capEx and no minimum commit. This development on the Azure edge displayed during the Ignite allows great connectivity across several platforms. From healthcare to finance companies are using the Azure edge when it comes to distributed computing. 
#3 Azure ARC_The Beginning of New Era in Hybrid Computing 
A hybrid computing built for multi-cloud and multi-edge, Azure Arc adds a new dimension for enterprises. This marks the start of Microsoft into supporting Managed Data Services. If your enterprise has managed data services that are multi-cloud and multi-edge, Microsoft Arc is designed to cater to your needs. With the addition of Microsoft Arc, the company has literally redefined virtual computing. You can bring the Azure innovation to your data center. With this connectivity and Azure portal by your side, there are no data silos that impede the speed and functionality of your business process. Azure Arc is designed to understand the capacity of your data centers and scale up as and when there is a demand. The option of scaling up to 3000 nodes is just what an enterprise needs when planning to scale up and down in a short time. 
Azure Arc has dual replication and this enables connection from an on-premises location to any other Data Center remotely located and even AWS. It's a truly Agile and consistent platform across different data centers.
#4 Azure Synapse
With Azure Synapse, the cloud-native memory and storage hierarchy is used to change and redefine the rules that exist around analytic workloads. Azure breaks the silos of data warehousing and big data. The enterprises can bring in together the unstructured and structured analytics at a great scale. Joining data from multiple and disparate sources on a large scale will give enterprises the ability to query relational and non-relational data at a petabyte-scale. The best part is the great speed at which Azure Synapse completes the queries…Just a few seconds and the query is done. It is almost 75% faster than the other options available in the market. 
#5 AI-Driven Autonomous Systems
At the Microsoft Ignite 2019, Satya also spoke about driving the AI engine that is capable to build the Autonomous system. Teaching machines by engineers who build these systems will further enhance the autonomous systems and these will be driven by the domain knowledge. Imagine the impact of having machines that sense and adapt to the changing environment, and then further enhancing human cognitive skills. Yes, changing the innovation from automation to autonomous is where Microsoft Azure services are focused on. 
Azure Computing: Making Businesses Successful
The Microsoft Ignite 2019 had many more announcements in the sequence of: 
Azure – Trust – Developer Tools – Power Platform – Dynamic 365 – Microsoft 365
Enterprises planning for Azure Migration may have a lot of questions and challenges that stops them from jumping on the bandwagon. However, the potential to scale the business operations in a secure and resilient Azure Computing Environment is massive and the discussions around cloud migration strategy should already be in place if not done so. 
WalkingTree: Empowers You with Azure Cloud Computing
WalkingTree is experienced in implementing Azure Cloud solutions in several industry verticals. We have an experienced and dynamic team dedicated to your Azure Migration. With the latest updates and a good strategy revolving around Cloud Migration your business can be successful in harnessing the cloud technology to further speeding up, enhancing, and modernizing your enterprise. 
If you are looking for business solutions revolving around Azure Cloud Computing or any other IT services, we are here to help you enhance your IT capabilities.