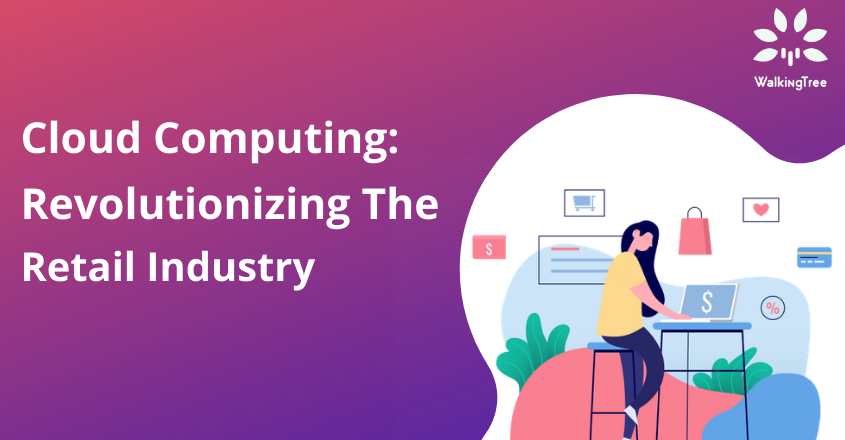 The idea of disruptive marketing strategy is not new in the retail industry. Most of us have experienced the transition in retail from good old bookkeeping to the sophisticated technology today that empowers retailers and consumers alike. Yes, there has been a paradigm shift in the approach but the end goal is the same…attract, sell, retain! A lot of retail industries have already started their successful digital transformation journey, but there are still many that don't find it necessary to invest in technology. As a successful retail industry today, do you really need a digital solution? Just go with the flow…or change the direction? Well, a retrospective approach along with futuristic thinking is just what many need as cloud computing revolutionizes the retail industry.
Technology and Retail Industry
In the 50s, businesses banked on a good business strategy and technology didn't really matter as much…but in 2019, even the best of business strategy cannot float without the ideal technology. In a traditional approach, the retail industries would focus only on the products and services offered. In our times, there is widespread adoption of technology in the retail industry, and billions of dollars are being spent to accommodate the same. As a retail industry what you choose today is detrimental for your future. Most retailers have moved to the cloud computing platform and are experiencing many benefits today. One of the best things you experience on the cloud platform is that it is convenient to plan, strategize and execute business goals in the future.
Retail Industry: From Brick & Mortar to the Cloud
Although the words may sound too fancy for some, the reality remains – Cloud is the way ahead for the retail industry to keep up with ever-increasing consumer demands. If you are a retail industry professional still in the thought process of cloud migration, here are some interesting facts about revolution in cloud computing to help your decision-making process.
Data-Driven Decisions: The importance of data can never be overemphasized to retail professionals. The buying journey of a consumer has several touch points that are often lost by many retailers. For example, where do the consumers spend more time? What areas are the most crowded? What is attracting more sales? Which time of the year do you need to enhance your selling strategy? Data is the answer to the above and many other such questions. Key cloud platforms like Microsoft Azure help retail stores of every size to store a huge amount of data. Apart from storage, Azure also helps retailers measure every single data point, and gives a realistic overview of the current trends.
This helps retailers to be prepared for the upcoming boom in the sale and also strategize their sales for times when the business is usually low.
Higher Visibility: Retailers have an edge with cloud computing when it comes to the aspect of visibility. Cloud provides enterprise-wide supply chain visibility and this helps them plan their retail chains without expedited deliveries, stock-outs, and high inventories. On the other hand, the cloud also enables you to capture the details about consignments, digital documents, brokers, carriers, etc. in real-time.

No Huge investments: A crucial fact is well-established – Retail Industry needs technology to survive in our digital times. However, retailers need to remember that "it's not just about digitizing the whole nine yards." On the contrary, cloud migration is a systematic approach that is very light on the pockets. For example, you can move on to the Microsoft Azure Cloud Computing platform without worrying about an overhead cost. Let your data and computing be on cloud and pay as you go for any service that you plan to choose to go for. So with relatively low risk, retailers can move towards achieving efficiency.
Unified Computing: There are several components in a retail business that has to work together. Without the right technology, communication is mostly scattered across different domains and there are silos created. Silo operation in any industry is bad and all the more in retail. With a cloud computing platform, there is a transparent fabric that connects all the different components together and makes it a unified platform.
Ease of Inventory Management: Inventory is one of the most important assets for retailers. Some large retail players have thousands of stores across the globe and managing their inventory is one challenging task for sure. However, cloud computing helps these retailers to manage their inventory with great ease on just one platform. Solutions can be customized to the retail business so that the workers focus on customers and not on the computing.
Attract and Retain Consumers
This was and is one of the important goals in the retail business. Cloud computing helps you deliver customer-centric services and this further helps in sales and retainment. Microsoft Azure has several components that are designed keeping in mind the future needs of retailers. So when you have all the goods in technology to help you have a future edge, why not decide to migrate to cloud computing? As the retail industry invests and implements cloud computing in their business, there are several new avenues that can be opened up in the business to get an edge over other competitors.
Walking Tree Helps You in Your Cloud Journey
Walking Tree Technologies has 10+ years of IT Services and Support Experience. We understand the several challenges that retail businesses face across the globe when it comes to cloud migration. We create custom cloud solutions based on your specific business needs. Our team first evaluates your pain points and then recommends specific cloud services that are apt for you. So why wait for everyone else to jump the cloud computing bandwagon before you when you have the right professional support. If you are a retail industry struggling with Cloud Computing solution or are looking for a reliable team to help you in your cloud migration journey, Walking Tree Technologies is looking forward to hearing from you.