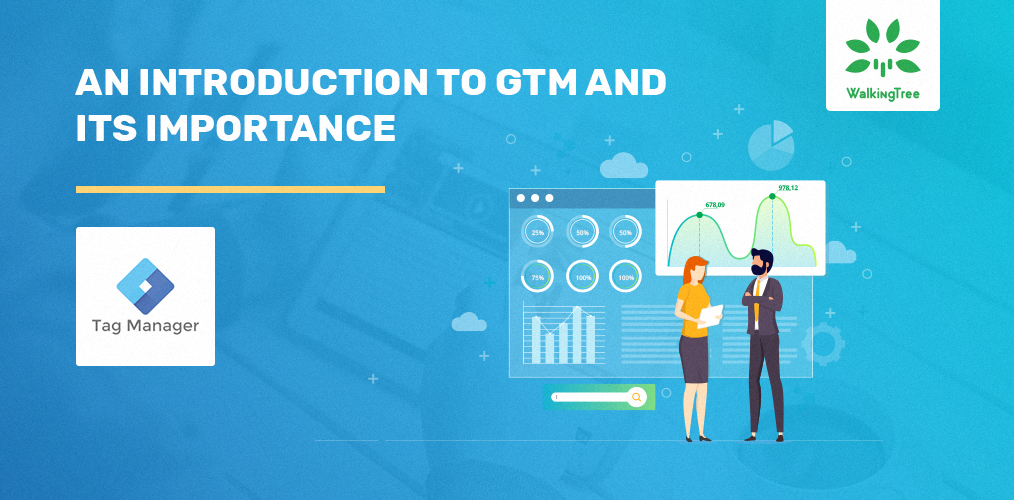 Data is vital for decision-making in any field. The reliability and accuracy of data play an important role in any business. Decisions based on assumptions and without proper data to support them may lead to losses.
GTM – Tag Management System
The Google Tag Manager is a highly recommended tool for Data collection on your website. Data here points to the user Interactions with the site. With the collected data you can analyze where more users exit from the site or face an issue, perform conversion tracking, build remarketing data, and do much more. Using Google Analytics, you can get several details about the users' behaviour on your site but combining Analytics with the Tag manager can be more insightful than using it in isolation.
To know more about how GTM can be useful on your website, call our experts today.
WalkingTree offers cutting-edge services using GTM in the E-commerce realm, click here to know more.
GTM vs Traditional Methods
The Traditional method of adding java scripts to the site and capturing the data will slow down the site's performance by increasing the load time which the Google algorithm considers while calculating the ranking position in the SERP. Also, it is difficult to manage more tags on the site as it requires a basic level of coding knowledge. Moreover, many marketers will not have access to the source code, which would direct us to take the help of a developer and wait till the completion of the work to see the results. Maintaining tags in larger websites is very difficult and time-consuming than adding and editing the tags. In case the tags are not implemented properly it may lead to resultant server errors.
With GTM, you don't need to add tags manually and depend on the developer unless you intend to implement a tag to a technically deeper level. GTM fires tags asynchronously, it also provides the option of synchronous firing which can be used depending upon our requirement. We can also manage all our tags in a single place and make it Active or Inactive within a few seconds.
Users and Permissions
By providing permissions to the user, we can have control over them. In GTM we have permissions like No access, Read, Edit, Approve and Publish. We can assign different levels of permission to each user based on our requirement and avoid misuse. The table below is added for your reference and explains the different levels of permission in detail.
| | Create | View | Edit | Delete | Create Versions | Publish |
| --- | --- | --- | --- | --- | --- | --- |
| No access | X | X | X | X | X | X |
| Read | X | Have access | X | X | X | X |
| Edit | Have access | Have access | Have access | Have access | X | X |
| Approve | Have access | Have access | Have access | Have access | Have access | X |
| Publish | Have access | Have access | Have access | Have access | Have access | Have access |
Version Changes
Versions – With this option, you can access all the previous versions of the container and roll them back if you need to. This means that you will have a backup of your old container and can get it published immediately without hassles. With this feature, we will also have a record of what tags got changed, when, and who changed and published them.
Test Your Tags Before They Go Live
GTM has an inbuilt Debug mode using which we can test our tags before they go live (Publish the container). With this feature, we can ensure that the tags are triggered precisely and fetch the appropriate data from the website so that the live data does not have any test or random data that is inappropriate.
Tags
Tags collect the required data from the website and report to Google Analytics or any other analytical tool of our choice. GTM has nearly 50 built-in tags that we can use, a few of them include Google Analytics UA, Conversion Tracking, Custom HTML, Google Survey, Google Optimize, Bing ads Universal event Tracking etc., We can choose from the list of available tags and start working on them without using any code.
Triggers
The firing of tags can be controlled by Triggers. In GTM, every tag needs at least one trigger to get fired. Triggers listen to specific events occurring on the site and direct the tag to get fired when the specified event has occurred.
GTM has different Trigger types namely, Page View, Click, Window Loaded, DOM Ready, Custom Event etc.
Variables
Variables collect the data from the related website and get used in Tags and Triggers. In GTM, we have predefined and custom variables. We can create our own variables under the custom variables. We can enable or disable the predefined variables by just checking and Unchecking them.
To get help on setting up the Google Tag Manager for your website, connect with an expert today.
Conclusion
Google Tag Manager offers simple, yet powerful solutions to help small businesses and large enterprises get up and running with the optimal management of tags and triggers for tracking and analytics.
Getting the right direction in its usage based on the requirement is important to succeed in this feat.