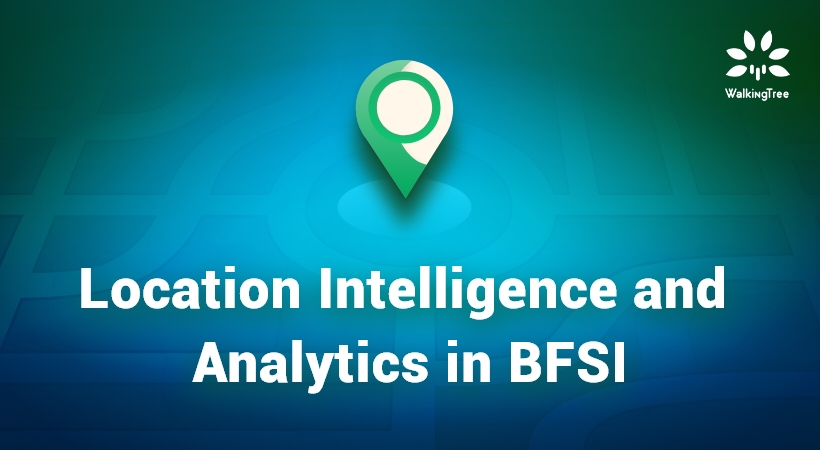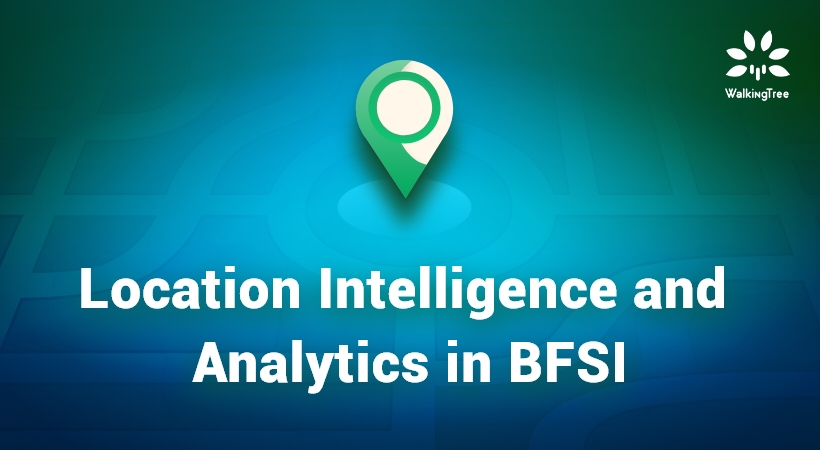 Location intelligence and analytics aid BFSI gain newer insights to develop responsible services and solutions
The connectivity requirements of today's businesses are constantly changing. In addition to linking numerous mobile and IoT devices to their networks, organizations are rapidly shifting workloads and interactions online and into the cloud.
Location Intelligence
People and technology are used to visualize spatial data and recognize patterns and relationships that lead to actionable information, which is known as location intelligence.
As organizations and consumers pursue spatial context to make more informed decisions based on data, location is becoming increasingly important. Such correlations can aid businesses in detecting geospatial patterns and trends, giving them a competitive advantage in a constantly changing market.
Location Analytics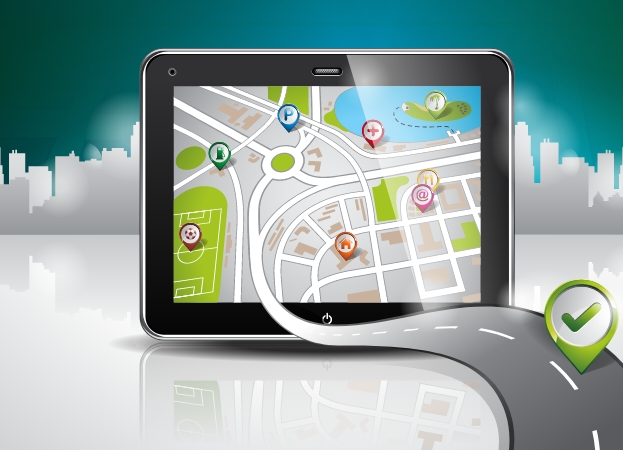 Location analytics adds a layer of geolocation information to business data to extract new insights. Location analytics allows us to gain insight from data's geo-location or geographic aspect.
Reasons businesses need Location analytics
Location Analytics allows you to envision the movement of products, sales, and materials over time and space. Practically everything in a company happens at a specific time and place. It could be items such as raw materials, goods, or services, or it could be individuals such as workers, agents, or customers, or it could be activities such as deliveries, sales, or production runs. There are numerous advantages that location analytics can provide to a company. It will help it see at a glance how many stores to operate and when, where it is overspending and underspending, how well each stage of the company is running, and so on. Using Location Analytics businesses can the following advantages:
Increasing the return on investment –

Location analytics can provide reliable insight into market success and prospects promptly. You will see exactly where the company will gain from your scarce funds by combining the right data (anything from store sales figures to customer service feedback) with highly accurate location details. Businesses may define investment "hotspots" at a glance using techniques such as heat mapping, saving hours that would otherwise be wasted digging through spreadsheets and tables.

Improving Revenue-

Via targeted marketing, location analytics will aid in increasing sales. Locational analytics may aid in fine-tuning the degree of information by integrating data on purchasing trends, psycho-demographics, and even sentiment analysis, all of which are tied together by latitude and longitude. This analytics can greatly assist businesses in making targeted decisions at the company or personal level.

Cost management-

Location analytics can help businesses visualize their results, including their spending. It may not only assist the company in obtaining information about daily expenditures such as promotions, salaries, or rent, but it can also detect "hotspots" of underperformance or inefficiency that may be incurring additional costs. Maps often make it simple to recognize similarities and trends in data at the global, regional, and local levels, as well as down to individual stores, to identify previously hidden cost sources or causes.

Increasing consumer satisfaction-

To a large degree, building customer relationships and loyalty entails tailoring goods and services, as well as correspondence to segments and individuals. Locational analytics assists in better servicing consumers, meeting their needs and delivering on what was promised because it allows for easy identification of who the customers are and where they are. Businesses can easily isolate the root cause of customer service problems by using location-based data. They can also determine whether there are any trends in customer service issues across a geographical region.
Businesses can make more informed decisions that increase both productivity and effectiveness by understanding how these elements relate to one another through locational analytics. Understanding and targeting clients, as well as understanding and improving business processes, are aided by location analytics.
Location Intelligence and Analytics in BFSI
Spatial data visualization, contextualization, and analytical capabilities are all included in location intelligence applications. It provides an invaluable opportunity for banks and insurance companies to appraise and improve their results and allows BFSI firms to significantly progress sales rep efficiency.
Today, businesses have a huge opportunity to improve their decision-making by using location intelligence. Nevertheless, it is a known fact that technology is a key enabler for banks and financial institutions in achieving long-term growth and curating individualized multi-channel customer engagement and satisfaction.
What role do location intelligence and analytics play in banking and finance?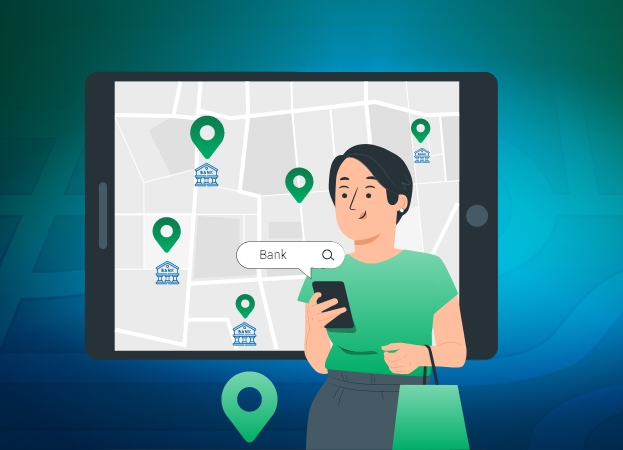 Financial institutions are gradually realizing the importance of location intelligence in boosting their bottom lines. The banking and financial sector is rapidly changing due to location intelligence and analytics. Financial institutions produce a lot of location data regularly, and they're trying to extract valuable knowledge from it so that they can bring more value to the ecosystem. Significant streams of datasets irritate the banking, financial services, and insurance (BFSI) sector, which still functions in silos. Businesses have a tremendous opportunity to use location intelligence to make better decisions. Location intelligence is playing a key role in enriching customer experiences. Let's see how.
Visualization is extremely efficient-

Is pretty beneficial to combine technology and location knowledge, banks can visualize critical data for their branch network.. This allows banks to compare their branch locations to rivals and determine the success measures of each branch. Banks can gain a comprehensive view of their branch network by using visualization software.

Segmentation of customers-

Banks is quite equipped with position intelligence to segment customers and outline territories subsequently. Banks can develop tailored marketing strategies to capture more business based on the consumer profile in a specific micro-geography. The data also enables banks to make strategic choices and concentrate on any initiatives that would benefit them to improve customer experience.

Analytical forecasting-

Location Intelligence provides banks with a wealth of data. Banks can use sophisticated algorithms to discover trends and gain critical insights by leveraging this knowledge. Location-based data can be utilized to forecast what could result in the future. Banks can better predict where the next branch location will make the most sense based on demographic data and consumer segmentation and also serve them in identifying real gaps in their network. They might also determine whether to provide doorstep banking as an added benefit based on customer profile. The list goes on and on.

Uncovering the Best Products and Locations-

Based on the findings of the study, banks will create a variety of fresh, highly targeted products that are closely related to customer and business demographics. Banks can quickly define areas where they can optimize profitability, financial efficiency, market gaps, and underserved markets through recognizing how competition, supply and demand, and customer demographics affected their profit and performance.
Banking is a location-based industry.
A bank can better control its branch networks and retailers, as well as understand the market and regulators, by knowing the position of its customers and their transactions—both at home and at work.
The Power of Location Analytics for Insurers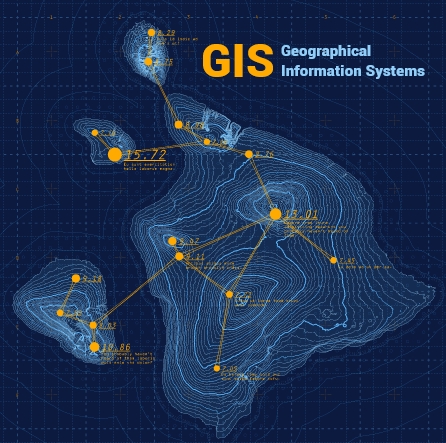 Several insurance firms are adapting GIS (Geographical Information Systems) to assist them in recognizing and surmounting new challenges. GIS applications are increasingly being combined with Business Intelligence (BI) systems to generate new insights and enhance core business processes such as risk hypothesis and claims management.
Insurance firms are beginning to push new ways of exchanging knowledge and understanding potential advantages, from establishing a more realistic view of risk to superior capital allocation and GIS and BI integration.
Modern insurance firms are using GIS in novel ways to address an ever-increasing number of challenges. The spatial analysis provides advantages across the board, from improved risk perception to better capital management to deeper customer relationships.
A better understanding of risk
The logical starting point is the creation of a global geo-coding capability that allows the position of all threats to be pinpointed to 'xy' coordinates. Geo-coding new and current policies allow risk accumulations to be defined far more precisely than previously.
Insurers can achieve the following benefits by achieving a global, geo-coded view of risks assumed:
Build options for reducing accumulations by using price or risk scoring procedures.

Build scenario modeling and predictive analytics to assess the effect of various incidents, as well as the magnitude of these events, on profitability.

Identify locations where different risk models developed by different providers generate different outcomes – a risk in and of itself if the lower score is used as the pricing basis.
These simple yet effective Location Analytic techniques enable users to concentrate on the most important issues, price contracts accordingly and resolve issues quickly. Identifying possible problems allows insurers to collaborate with clients to minimize and avoid risks before they occur.
Enhancing capital management
The availability of capital is one of the most important factors influencing the growth of any insurance company. New methods of understanding the factors that affect capital are needed to be investigated, such as position analysis, which can increase an insurer's rate of return on capital by a factor of two.
More efficient resource allocation

Geographic information systems (GIS) can be used to model scenarios and accumulations concerning capital allocations in both countries and markets. This helps to prevent regional accumulations, which might jeopardize a company's financial stability in the event of a catastrophe.

Improving the performance of reinsurance

Geography can be used to drive sustainable growth by finding locations and companies that serve ideal consumers while staying within current Treaty Reinsurance caps – all while incurring no additional costs.

Bringing together underwriting and claims data

Countries or regions can be analyzed by geographically linking underwriting and claims data to determine how and where profits are produced. It also indicates how to distribute resources through various industries to maximize profitability. This approach can be used to prioritize growth opportunities as part of the business planning process.
Strengthening customer relationships
The implication is clear as businesses strive to improve consumer relationships, minimize turnover, and increase word-of-mouth recommendations, claims management will take center stage.
Smart insurers are now harnessing the combined power of GIS and BI in claims management, assisting in determining the potential impact of an incident and the estimated loss even before a claim form is received.
Spatial data visualization, contextualization, and analytical capabilities are all included in location intelligence applications. It provides an excellent opportunity for banks and insurance companies to assess and improve their results. It also allows BFSI firms to significantly increase sales rep efficiency.
The importance of location intelligence in enhancing customer interactions cannot be overstated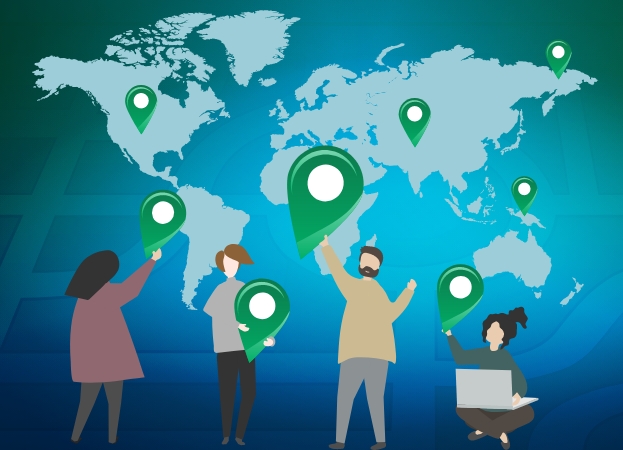 In the digital era, brands must prioritize providing a positive customer experience. Many of the problems associated with identifying, engaging, and enabling consumers at the right time and place are already being addressed by brands using location intelligence. The sheer volume of data available, on the other hand, can be overwhelming and knowing when to use which data can be difficult. Here is where location intelligence can help with customer interaction strategies.
When location intelligence is consolidated with the vast quantities of organizational and consumer data that retailers it is easy to achieve great levels of efficiencies and customer experience. Location Intelligence can help in the following areas:
Overcoming location data inaccuracy: Despite its popularity and utility, location data may be unreliable at times, which is why some marketers are reluctant to use it to evaluate ad success and allocate a marketing budget.
Challenges and Opportunities in Data: Brands can benefit from location data in a variety of ways, but only if a single location network can connect data from disparate sources to build an accurate picture of audiences and markets.
Improved customer service: Location intelligence can also be used to enhance the customer experience, which can lead to increased loyalty and deeper engagement with a brand.
Information about the market and the target audience: Marketers may use location data to efficiently target consumers through digital and physical platforms, as well as monitor the success of these omnichannel initiatives.
Via location intelligence, it is possible to understand not just what elicits consumer emotions, but also the sense in which those emotions occur.
Conclusion
Banks and insurance firms may utilize location intelligence tools to apply intelligence to their business models, making them easier to evaluate. Given the widespread adoption of GIS in the banking industry, Location Intelligence is gaining traction, helping BFSI firms to not only solve problems but also make better business decisions.